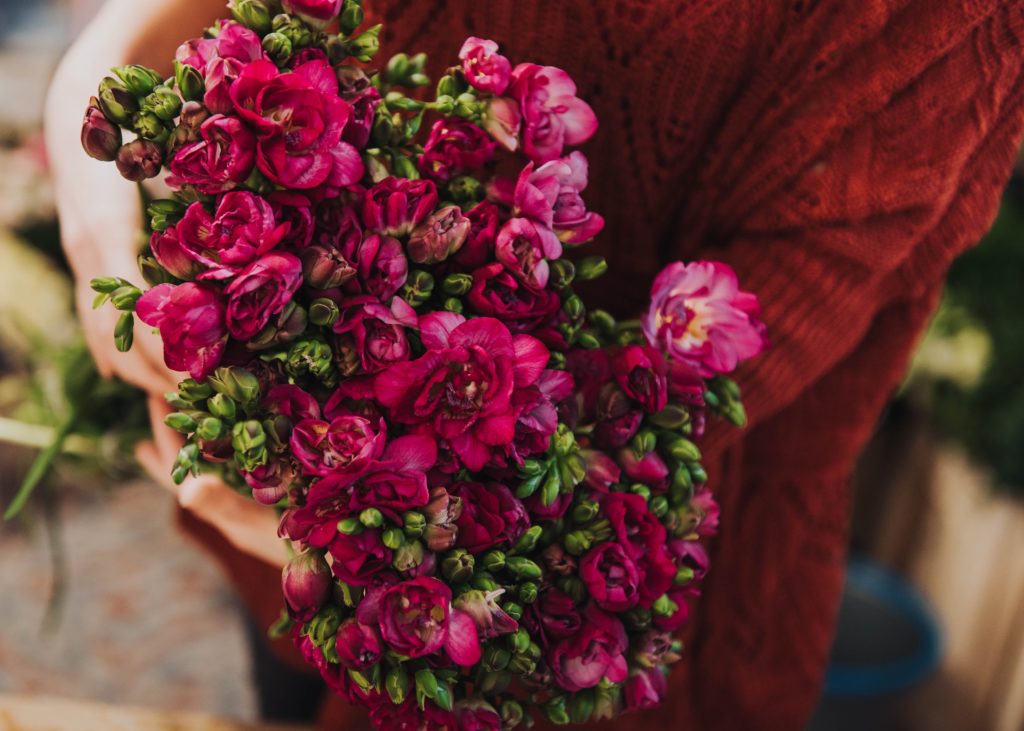 This article is sponsored by Acorns.
In my early- to mid-20s, I believed there were certain habits, hobbies, and rituals that were solely reserved for rich people — those who had been born into vast wealth or otherwise accumulated it. At the same time, I also happened to be bad with money. I had just finished grad school and started an entry-level job as an associate editor. Whatever money I had left over after rent, bills, and groceries went to online shopping so I could try to appear like I had everything figured out. Spoiler: I didn't. I also didn't have a savings or investment plan because such things seemed intimidating and unattainable.
Retrospectively, I wish I had used an app like Acornsa saving and investing app that's perfect for people who aren't financial gurus, but nevertheless want to grow their money and knowledge about finances. AKA, people like me. Acorns has helped over 8 million people save and invest in the background of life. Because it turns out, you don't have to be super-rich to start investing for your future — you just need a little help.
Here are some of the things I thought I had to have a lot of money to start doing (it turns out, I can do these things, and I'm not rich).
1. Start taking vacations once or twice a year.
Contrary to what Instagram makes us believe, vacations aren't just for rich people. In fact, if you have paid vacation days through work and you're not using them, you're literally working beyond what you're being paid for.
When you learn how to smartly save, something like a week-long vacation in Hawaii may not seem so out of reach (during a normal, non-pandemic year, of course) — especially when you can strategically use credit card points and airline miles to get there. You just need a toolkit to understand how much money you have to put aside, and how long it'll take you to get there — without surviving on Kraft mac 'n cheese for dinner every night in the process. You can take a vacation without sacrificing the quality of life. It just takes planning.
2. Investing your money so that it makes more money.
I was always told that to make money, you need money. That in order to invest money, you need a lot of it. And that in order to invest in your own business, again, you need a lot of money. As a 20-something, this cycle of wealth didn't seem fair — or possible. I had $800 in my savings account. What could I possibly do with that amount of cash in order for it to "work" for me?
It's true that you need to invest some cash in order to see it accumulate over time through compound interest. But you don't need a foundation of millions of dollars (or an MBA) to start seriously investing, however. A little bit of research and guidance goes a looong way. Acorns is a smart investing app that's like having a financial advisor at your fingertips. Their financial experts help you create a smart portfolio that helps you achieve your investment goals — all through automated investing.
When you download Acorns, it automatically invests spare change from everyday purchases like coffee, groceries, gas, that holiday present for your parents you just bought over Black Friday weekend, and more. You can literally start investing in the background of your everyday spending. Plus, it accumulates faster than you'd think, and within 6 months, you'd be surprised how much your account has earned without purposefully transferring money after depositing every single paycheck. You're saving money, and you don't even know it. Click here to get started investing with Acorns for as little as $1 a month.
3. Knowing what a "diverse portfolio" is.
Investing in the stock market can be scary. If you check your phone, you may notice alarming red graphs that signal the downturn of the market, or green graphs that signal growth. The truth is that the stock market, somewhat based on global economic health, will fluctuate over time. But you don't need to work on Wall Street to get this or do your own homework on the stock market's historical ebbs and flows. Making sure your investments are diversified takes some research, but once you have the tools, you'll feel more equipped to slowly (and incrementally) invest your money in diverse securities (like mutual funds!).
When you invest through Acorns, they automatically make sure that your investments are diversified so that you don't put all your money in one basket. That way, you maximize growth potential while also being able to weather the unavoidable ups and downs of the market.
4. Making time for a pricey hobby, like Pilates.
I always thought I had to be wealthy to have both the money and the time to enjoy an expensive activity like Pilates. But after making a few small tweaks to my spending, I realized I was able to save more "extra" than I had thought. I also reevaluated my priorities — I could keep spending $100 on random purchases I'd forget about after a day or two, or I could save it and use it toward an activity I always thought was out of reach for me. More, through apps like ClassPass, I can whittle down the cost per class and get more out of the money I set aside for exercise. I now actively participate in a fun and healthy activity that's an investment in my body and long-term health.
5. Owning a chic capsule wardrobe.
I always thought you had to be immensely rich to be the kind of person who owns a capsule collection of high-quality, luxury clothing. Investing in an expensive (but indestructible) pair of jeans, or buying a pricey coat that goes with every single item of clothing you own sounded good in theory, but I wasn't ever sure where to start.
After smartly saving after several months, I was eventually able to take some of my savings and give myself a small allowance to purchase several durable basics I knew would last me for years, clothing that would never go out of style, and outfits I would be happy with forever. Yes, my new jeans and sweaters were more expensive — but it meant that I cut back on hundreds of dollars on fast fashion pieces that I'd end up donating to Goodwill at the end of the year.
*****
The bottom line? Being rich definitely helps you grow, financially. That's a fact! But being rich isn't a prerequisite to becoming financially literate and learning how to start saving, investing and making your financial goals come true. You just need some guidance to show you which directions you can take that fit your lifestyle and what you want (and see) for yourself.
Go to Acorns.com/TFD to get started — it'll only take you five minutes or less to start unlocking investing, saving, retirement, checking, earning, and more.
Picture via Unsplash
!function(f,b,e,v,n,t,s) {if(f.fbq)return;n=f.fbq=function(){n.callMethod? n.callMethod.apply(n,arguments):n.queue.push(arguments)}; if(!f._fbq)f._fbq=n;n.push=n;n.loaded=!0;n.version='2.0'; n.queue=[];t=b.createElement(e);t.async=!0; t.src=v;s=b.getElementsByTagName(e)[0]; s.parentNode.insertBefore(t,s)}(window, document,'script', 'https://connect.facebook.net/en_US/fbevents.js'); fbq('init', '1864103540333553'); fbq('track', 'PageView');
5 Things You Think You Have To Be Rich To Start Doing, But Don't